Project HOOP News: 2005
Jerome Fellowship's Awards Available
Funding: Five $9,000 fellowships will be awarded in 2006-2007
SPONSOR INFORMATION
Sponsor: Playwright's Center
Sponsor Type: Miscellaneous Non-Federal
Contact Jerome Fellowships
Address: 2301 Franklin Avenue East, Minneapolis, MN 55406-1099 U.S.A.
Tel: 612-332-7481
Fax: 612-332-6037
Email: info@pwcenter.org
Website: http://www.pwcenter.org/PDF/JeromeApp2006-07.pdf
Program URL: http://www.pwcenter.org/fellowships_Jerome.asp
Support is provided to American playwrights to aid them in the development of their craft. Four $9,000 fellowships will be awarded. Fellows spend a twelve-month residency in Minnesota using the sponsor's services including readings and workshops with professional directors, dramaturgs, and actors.
Objectives:
Fellows spend up to twelve-months in residency in Minnesota receiving Center opportunities including workshops and readings with professional actors, dramaturgs and directors.
Eligibility:
Applicants must be citizens or permanent residents of the United States. Applicants may not have had more than two different works fully produced by professional theaters at the time of application, defined as productions for which the author and/or primary artists (actors, directors, creative collaborators) were compensated, and received at least three public performances. Ten-minute or one-act plays and university, college, secondary school, amateur, and Equity showcase/waiver productions are not considered full productions. Playwrights may not receive any other Playwrights' Center fellowships or grants during the grant year.
---
Prize for New Plays Available at U of B.C.
The sponsor provides an award for an original, previously unpublished and unproduced (professionally) at the time of entry submission, full-length stageplay in English.
SPONSOR INFORMATION
Sponsor: University of British Columbia
Sponsor Type: Miscellaneous Non-Federal
Contact Address: Stageplay Prize Coordinator, Dept. of Theatre, Film and Creative Writing, Buch E-462, 1866 Main Mall, Vancouver, BC V6T 1Z1
Canada Tel: 604-822-0231
Email: resprize@mail.arts.ubc.ca
URL: http://www.creativewriting.ubc.ca/events/resprize/index.cfm
Synopsis:
The sponsor provides an award for an original, previously unpublished and unproduced (professionally) at the time of entry submission, full-length stageplay in English. It should be two or more acts with a playing time of at least seventy-five minutes and no more than one-hundred-twenty minutes. The prizewinner will be awarded a Writer-in-Residency in the Creative Writing Program at UBC for a period of one month to a value of $10,000 Canadian Funds, plus expenses, and a public performance of the play.
Eligibility:
Entry is open to all, except faculty, staff and students in the Department of Theatre, Film & Creative Writing, who are ineligible, and remain so for a period of one year after the student, staff or faculty member�s employment or enrollment in the Department has ended. An entry fee of $50 for the processing of the manuscript is required. Entry fees from outside Canada are $50 in U.S. funds. The entry fee includes a one-year subscription to PRISM international including the issue in which the winning play is published.
Funding:
The Grand Prize will be $10,000 in Canadian Funds.
---
Playwright Grants Applications Open
Title: Playwright Grants
SPONSOR INFORMATION
Sponsor: Princess Grace Foundation - U.S.A.
Sponsor Type: Foundations
Contact: Ms. Christine Giancatarino
Address: 150 East 58th Street, 25th Floor, New York, NY 10155 U.S.A.
Tel: 212-317-1470
Fax: 212-317-1473
Email: info@pgfusa.com
Website: Program URL: http://www.pgfusa.com/awards/playwriting/guidelines.html
Synopsis:
One cash award of $7,500 is provided to a young playwright to support a residency program at New Dramatists, Inc. in New York City. All candidates must be United States citizens or have permanent resident status.
Objectives:
The program is designed to identify and assist emerging young artists in theater to realize their career goals.
Eligibility:
Eligible playwrights are U.S. citizens or permanent residents who are at the outset of their careers or at early stages of professional development. Eligible playwrights must not have had any Equity productions (Equity showcases and workshops are admissible).
---
"Christmas in the Clouds" Opens Nationwide, November 4, 2005
"Christmas in the Clouds" - the first romantic comedy set in Indian country - is releasing in theaters on November 4th! Check it out at http://www.christmasintheclouds.com/.
A charming tale of mistaken identity, tribal enterprise and true love, the film was shot at Robert Redford's Sundance Resort in Utah and premiered at the Sundance Film Festival to standing ovations and extra screenings. Daily Variety calls it "a delightful romantic comedy" and KRON TV critic Jan Wahl says "I love this film!" The film is releasing in theaters throughout California on Friday, November 4 and will be featured in USA Today that same day. (Other markets to follow on 11/18 and 12/2.)
Please click here for more information.
---
Disney Fellowship Winners
Thomas Yeahpau (Kiowa), a student at Haskell University, and Laala Matias (Cherokee/Arawak/Black/Carib), a graduate of New York University, were awarded $50,000 ABC/Disney Talent Development Writing Fellowships. Leslie Gee (Caddo), a 2005 graduate of IAIA, and Terry Jones (Seneca), who attended Pace University, were recipients of the ABC/Disney Talent Development Scholarship-Grant Program awards of $20,000.
---
Kohler's Film Debuts at AIFF, November 2005
A documentary I have worked on with Award winning Director Jed Riffe, Editor Maureen Gosling and Cinematographer Vicente Franco will premiere at the American Indian Film Festival this year. It will also aire on April 13th, 2006 on PBS nationally.
THURSDAY Nov. 10, 7:30pm Palace of Fine Arts
* * * * * * * * * * * * * * * * * * * * * * * * *
California's "Lost" Tribes
Director: Jed Riffe
Co-Producer: Jack Kohler
Running Time: 54:30
In a few short years, American Indians in California went from being the poorest people in the state to among the richest - from being virtually invisible to being the most powerful political lobby in the 6th largest economy in the world. For the Cabazon and Morongo tribes of Southern California, the plaintiffs in the landmark Supreme Court case, the potential wealth from gambling was unimaginable.
Years of excruciating poverty have not been lost on three-time chairwoman Mary Ann Andreas of the Morongo Tribe, whose reservation is near Palm Springs. She remembers the dirt floor shack of her childhood, and the impossibility of dreaming for the wealth the tribe now holds. For Viejas tribal Chairman Anthony Pico, the abundance of today harks back to the times before contact with the Europeans. Today, the State is trying to charge a gaming tax greater than the standard corporate rate, a challenge to the newly found abundance of California tribes.
California's "Lost"Tribes is the first documentary to go behind the facade of glitz and glamour of American Indian casinos to reveal the current confilcts over Indian gaming, explore the historical underpinnings of tribal sovereignty, and the evolution of tribal gaming over the last thrity years. Concern over gaming is further stoked by the development of casinos on rural lands, creating friction between tribes and non-Indians.
California's "Lost" Tribes captures the impact of gaming on Indian self-determination, and the challenges Native people face in defining the identity of their people for the future. Jack Kohler TRXTR Productions 10900 Rio Vista Rd. Forestville, CA 95436, (707)592-9030.
---
Sundance Theater Lab Accepting Applications
This program consists of a three-week workshop which offers playwrights, directors, choreographers, composers, solo performers, and ensembles, the time, space, and support to develop new plays and musicals or to explore new approaches to existing scripts. Physical resources include four rehearsal rooms, a writing room, and a music room.
Please click here for more information.
---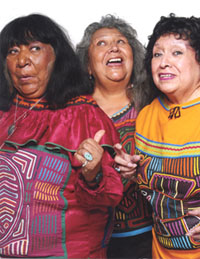 Project HOOP Salutes Spiderwoman Theater
Alive and Still Fabulous in 2005!
National Museum of the American Indian presents...
N E W T R I B E
N E W Y O R K
with a tribute to Spiderwoman Theater
George Gustav Heye Center
One Bowling Green
New York, NY 10004
This exhibition opens to the public on May 21 and continues through September 5, 2005.
Image (left to right): Gloria Miguel, Muriel Miguel, and Lisa Mayo
---
Native Radio Theatre (NRT) Calls for Scripts
LINCOLN, Neb. -- To share the art of storytelling, the Native American Public Telecommunications Native Radio Project has a call out for radio play scripts. This is a project of the Native American Public Telecommunications and Native Voices at The National Autry Center with planning funds from the Ford Foundation. The script entry deadline is November 15, 2005, and to get application procedure information visit http://www.airos.org/theatre/. The goal of NRT project is to bring audio theater to the American Indian Radio on Satellite by Native authors, theater and recording artists.
Click here for more information.
---
Key Arts Post Open at NMAI In Washington D.C.
That National Museum of the American Indian, (NMAI) is an international center for research, collections, public education, outreach and training activities related to hemispheric Native history, art, and culture. A position as Cultural Arts Program Specialist, National Museum of the American (GS-1001-09/11 Indian (NMAI)), in the Office of Public Programs (DC5-114).
Click here for more information (PDF Document).
---
New Music Program on AIROS
RadioCamp and Koahnic Broadcast Corporation are proud to present an innovative new music service for AIROS stations starting October 3. The music mix will be eclectic with a strong foundation in AAA, Indigenous/Roots and World Music. Co-Executive Producer and Host Gregg McVicar (Earthsongs) says there will also be plenty of Rock and other modern sounds to keep things energized. "We're not going to put a label on this format, but we can say with great confidence that people who love music and love good radio will dig what they hear and will stay tuned." Co-Executive Producer, Susan Braine, in charge of administering the CPB grant said, "We hope this music service will be a valuable resource for many public radio stations-not just the Native stations."
---
Next Generation Radio at NAJA Conference
Four Native American students worked with mentors, getting hands-on experience in writing, interviewing and recording as part of the NAJA conference which was held August 11- 14, 2005 in Lincoln, Nebraska. The students produced 3 short newscasts over the course of the week. Next Generation Radio is a series of one-week, student radio training projects co-sponsored by NPR and several journalist and media organizations. The projects are designed to give students who are interested in radio and journalism an opportunity to report and produce their own radio story. To read more and listen to the newscasts, go to: http://www.npr.org/about/nextgen/naja05/index.html.
---
NAPT Achieves Personal Best in Number of TV Hours Delivered To PTV
NAPT is presenting a record-setting range of music, documentary and public affairs programming to public television in the coming year. Eight programs encompass 11 hours of new television programming either presented or funded by NAPT. Whether your interest is in Native music and poetry, the environment, Native history, race relations, tribal sovereignty, or cultural preservation, these programs will be of interest. So be sure to check local listings or contact your local public television station to find out when they'll be carrying these authentic programs by and about Native Americans. Many of these new programs will be available for sale in the home video and educational catalogs at VisionMaker Video, http://www.visionmaker.org/, in November.
Here's the list of the Native American programs you'll see on public television in the next 12 months.
Coming in November 2005 for Native Heritage Month
Aleut Story
Homeland: Four Portraits of Native Action
Indian Casinos: What's Next?
The Native Word: Stories Past and Present
Independent Lens: Race Is The Place
Coming in Spring 2006
California and The American Dream
Indian Country Diaries: A Seat at the Drum
Indian Country Diaries: Spiral of Fire
Independent Lens: Trudell
Also visit or our website, http://www.nativetelecom.org/ regularly for updates on air dates and program release information.
---
Native playwright's work to be performed in Tulsa; Comedy takes satirical look at stereotyping
TULSA, OK 7/21/2005
Mama Earth Loves Lace is part of a trilogy by Ojibwe writer, Mark Anthony Rolo, a prize-winning journalist, and former President of the Native American Journalists Association. The play will be performed by Thunder Road Theater (formerly Tulsa Indian Actors' Workshop) as part of Summerstage, the theater festival hosted by the Performing Arts Center.
Click here for more information.
---
Spotlight on Indian Cultural Theft Shines at the Fringe in Minneapolis
MINNEAPOLIS
A one-woman show about an American Indian's quest for revenge against a blonde blue-eyed wannabe will make its premiere at the Minnesota Fringe Theater Festival.
"What's An Indian Woman To Do?" is based on the poem of the same title by White Earth Anishinabe writer, Marcie Rendon. The show stars Jenn Torres (Turtle Mountain Ojibwe) as Belle, a young urban Native who seeks to humiliate her nemesis, Katrina She Who Sees The Spirit Lights. But in carrying out her plot Belle finds that she must also face unresolved conflict about her own identity as an Indian woman.
Click here for more information.
---
UNM hosts evening of Native American music, culture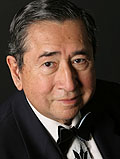 The University of New Mexico's Native American Studies, in conjunction with the College of Fine Arts Department of Music, will present an evening of Native American music and thoughtful discussion by internationally recognized composers Louis Ballard and Raven Chacon. The event, free and open to the public, will be held Wednesday, July 27 at 7 p.m. in Keller Hall in the UNM Center for the Arts and part of Albuquerque's Tercentennial celebration.
Photo: Composer Louis Ballard
Click here for more information.
---
Two Native American Artists Receive Fellowships
Congratulations to Nathan Young IV ( Pawnee ) and Dustinn Craig ( White Mountain Apache/Navajo ) on their selection to NVR's Media Arts Fellowships
New York, NY - National Video Resources is proud to announce the recipients of its Media Arts Fellowships. Awarded annually for 18 years, the Media Arts Fellowships recognize the artistic excellence of 20 film, video and new media artists in the United States with Fellowships of $35,000 each. For the second year, two additional Fellowships of $7,500 each acknowledge emerging artists working in film and video whose work shows exceptional promise.
Click here for more information.