UNM hosts evening of Native American music, culture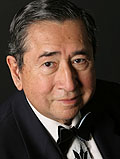 The University of New Mexico's Native American Studies, in conjunction with the College of Fine Arts Department of Music, will present an evening of Native American music and thoughtful discussion by internationally recognized composers Louis Ballard and Raven Chacon. The event, free and open to the public, will be held Wednesday, July 27 at 7 p.m. in Keller Hall in the UNM Center for the Arts and part of Albuquerque's Tercentennial celebration.
Photo: Composer Louis Ballard
Ballard and Chacon will speak about their creative work and educational endeavors and address the ways in which Native American music has been defined and redefined by composers throughout history. Ballard and Chacon will also play selections from their own compositions. "Native American music is often overlooked and I feel the work of both composers is significant," said Maria Williams, assistant professor of Music and Native American Studies at UNM.
Ballard (Quapaw/Cherokee) has a background in traditional Native American music as well as formal training in music from both Oklahoma University and Tulsa University. His works have been performed throughout the U.S. and Europe and his talent in composition has garnered commissions from orchestras and ballet companies. Ballard is also recognized for his efforts to provide music educators with the tools necessary to teach Native American music in the classroom. His compilation Native American Indian Songs, has been called "An American Classic."
Chacon (Navajo), an emerging talent in experimental music originally from a Navajo reservation in Chinle, Ariz., is also one of the few American Indian composers in the world today. At a young age, Chacon has already shared his many recordings for classical and electronic instruments at performances and exhibits across the country. Much of his music involves homemade microphones and instruments to provide a noise environment in a live or installed performance.
Chacon's all-chamber music disc, Beesh Naalnishi, was self-released in 2004 and has been distributed by many different labels and collectives. Locally, Chacon's album can be purchased at Natural Sound. "I believe we are in the beginning stages of a Native art Renaissance," Chacon said.
Contacts: Jenny Savage, (505) 277-1989 or Laurie Mellas Ramirez, (505) 277-5915