Project HOOP News: 2007
A STRAY DOG
Friday, December 7 at 8PM
Written by WILLIAM S. YELLOW ROBE, JR. (ASSINIBOINE)
Directed by PETER DUBOIS
Alec returns to his home on the reservation and has to fight the ongoing struggle of Tribal recognition with his family, like a stray dog returning to its pack. William S. Yellow Robe, Jr. is one of the leading Native playwrights in the United States.
Post-show Discussion Guests: Hanay Geiogamah (Director of Project HOOP at UCLA), Terry Gomez (writer/director/actor) and Yvette Nolan (Artistic Director of Native Earth Performing Arts)
---
AMERICAN INDIAN DANCE THEATRE WILL PRESENT "DANCES FROM A TRIBAL LIFE" FOR FOUR PERFORMANCES AT THE NEW LATC; OPENS OCTOBER 25
Since its creation in May, 1987, the AMERICAN INDIAN DANCE THEATRE has succeeded in introducing Native American traditional dance and music to a wide range of audiences all over the North American continent, Europe, Asia and the Middle East, reflecting the vibrancy and excitement of an ancient culture that continues to thrive and flourish in the new millennium.
"The 2007/08 season celebrates the past and looks toward to the future as the company continues to expand and evolve," said AIDT Co-Producer/Director Hanay Geiogamah, a member of the Kiowa and Delaware Tribes of Oklahoma. "American Indian dance has traditionally been passed from generation to generation, constantly being enriched by new voices and interpretations. Our …. production will reflect this living history and vital present."
---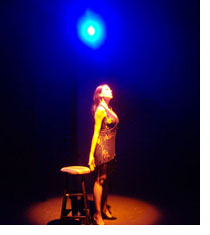 What's an Indian Woman to Do?
The Los Angeles Theater Center continues its Cultural Reconstruction Series with the lively and insightful one woman show What's an Indian Woman to Do?, starring Cherokee Indian actress, DeLanna Studi. Presented by Project HOOP (Honoring Our Origins and People) and the American Indian Dance Theater, the play is the story of Belle, a half White, half Ojibwe girl who identifies with her Native American Heritage, yet is constantly "culturally upstaged" by her white friend Katrina, and ceremoniously mocked for her modern life and ideas my her traditional reservation bound Auntie, for whom she was named. The one-woman show is based on Marcie Rendon's succinctly titled poem: What's an Indian Woman to Do When White Girls Act More Indian Than Indian Women Do.
The play will be presented at 8 p.m. Thursdays and Fridays and 2 and 8 p.m. Saturdays from June 28 through July 14.