Events: 2006
Indian Country Diaries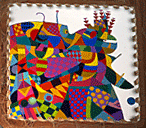 Where is Indian Country Today?
The answer is, anywhere Indians are Ė whether thatís the North Carolina rolling hills of the Eastern Band of Cherokee Indians or the urban canyons of Los Angeles where 280,000 Native Americans live.
Whatís being written in Indian diaries today?
Itís a good bet that Native Americans are writing about issues like identity, sovereignty, cultural preservation, family life, health and economic development. Those are the same issues that these programs and this web site will explore.
Please come back in the future as this site develops and offers additional information about the issues, the historical context of those issues, the programs and the producers.
For more information, please click here.
NATIVE CALENDARS FEATURE MEN, WOMEN, CULTURE
21st Century Skins, a Native Male Model Calendar with Tatanka Means, Bryan Whish, David Midthunder, Kalani Queypo, Annan Maxfield, Alex Meraz and Jeremiah Bitsui. Cost: $23 (includes $5 for shipping and handling) to: Mihio Manus, 311 N. Bonito St., Flagstaff, AZ 86001. Money orders payable to Mihio Manus. No checks please. You can also purchase by using Paypal (@> > www.paypal.com), and sending the same amount to mihio_manus@yahoo.com. Link: http://mihiomanus.com/21st.php.
Women of the Navajo, on what else? No celebs but gals. Cost $21.94 (includes shipping) to Krista Thompson, POB 18244, Fountain Hills, AZ 85269 Link: http://www.swmarketing.net/order_info.html
Bilingual Calendar in Navajo and English. This calendar lists all months, days of the week, holidays, and moon cycles in Navajo and English. Additionally, important Navajo dates, such as Treaty Day, are indicated. (This publishes also has titles by author/painter Baje Whitethorne - my uncle). Cost $18.95 Link: http://www.salinabookshelf.com/store/2006-Bilingual-Calendar-P42C11.aspx
FIRST PEOPLES FUND: Artist-In-Business Leadership Call for Applications

First Peoples Fund announces the 2006 Artists-In-Business Leadership Call For Applications . Fellowships are offered to members of Tribes from the Northern Great Plains and the Plateau Regions of the United States and Canadian First Nations that have historical and a cultural affiliation within our defined regions.
Click here for more information.
NATIVE AMERICAN LITERATURE SYMPOSIUM
April 6-8, 2006
Soaring Eagle Casino & Resort
Operated by the Saginaw Chippewa Indian Tribe of Michigan
Mt. Pleasant, Michigan 48858

The Native American Literature Symposium is the leading Native Studies conference, a Native-run event, at a Native venue. Scheduled to appear is Michelle St. John and "The Scrubbing Project."

Click here for more information.