DIRECTOR'S MESSAGE: Summer 2007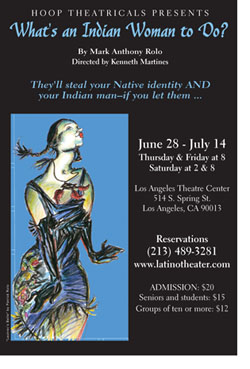 Dear Friends and Members of the American Indian Community:
Hello from Hanay Geiogamah and Project HOOP in Los Angeles. I am sending you the attached announcement of a new American Indian play which will be opening next week at the NEW Los Angeles Theater Center in downtown Los Angeles. The accompanying article about the show, WHAT'S AN INDIAN WOMAN TO DO?, will provide you with a full description of the play, its cast, artistic staff, performance dates, ticket information, etc.
This is a limited engagement, June 28 to July14, four shows each week, Thursday and Friday evenings and a Saturday matinee and Saturday evening performance. Seventy seats are available for each performance, and we cordially invite you and your family members and friends to come downtown and check this out. Please share this announcement with others. I hope to see you at LATC beginning next week. WHAT'S AN INDIAN WOMAN TO DO? is the first in a series of American Indian theatre, dance and musical productions that will be presented at the new Los Angeles Theater Center, now transforming as the home of a group of outstanding multi-cultural performing companies offering exciting, innovative work for 21st Century audiences. Thank you all.
SHOW INFORMATION: "WHAT'S AN INDIAN WOMAN TO DO?" HAS WEST COAST PREMIERE ON JUNE 28 AT LOS ANGELES THEATRE CENTER
WHAT: "What's an Indian Woman to Do?" West Coast Premiere of a new play.
WHO: Written by Mark Anthony Rolo. Inspired by a poem by Marcie Rendon. Directed by Kenneth Martines. Starring DeLanna Studi. Presented by HOOP Theatricals/Project HOOP. Artistic director: Hanay Geiogamah.
WHERE: Los Angeles Theatre Center, Theatre 4, 514 S. Spring St., Los Angeles, CA 90013. Enter in rear of building. Parking immediately adjacent (fee).
WHEN: June 30- July 14, 2007. Opens Saturday, June 30 at 8 p.m. Thereafter, Thurs. & Fri. at 8, Sat. at 2 and 8.

ADMISSION: $20. Seniors and students, $15. Groups of ten or more, $12.
RESERVATIONS: (213) 489-3281.
"What's an Indian Woman to Do?" is a solo play specifically written to be performed by a Native American actress who plays all the piece's characters.
Belle, the daughter of an Ojibwe father and a white mother, identifies herself exclusively with her Native American heritage. Her former best friend, the blonde and blue-eyed Katrina, wounds Belle doubly, first stealing Belle's lover Kyle, and then violating cultural boundaries when Katrina learns to speak the Ojibwe language and adopts an Indian name and otherwise immersing herself in tribal lore.
But Belle will see to it that Katrina gets her comeuppance. For one thing, Katrina has a new Indian lover named Moose. And Belle catches his eye.
Part of the narrative is concerned with Belle's complex relationship with the aunt after whom she is named. Aging Auntie Belle has been forcibly removed by the Feds from her ancestral Indian land and moved onto a reservation. Auntie calls her niece City Girl, forcing Belle to confront her future as a modern urban Indian who nonetheless feels a deep spiritual connection to her traditional culture.
DeLanna Studi stars. The busy Cherokee actress has toured Southern California schools with "KICK," a solo piece which addresses the negative aspects of the use of Indian mascots at schools and sporting events. She portrayed Sacagawea in "Beautiful in the Extreme" at the Colony. She appeared in "A Long Bridge Over Deep Waters" for Cornerstone Theatre Company. For Native Voices at the Autry, Delanna appeared in "The Berlin Blues," "On The Showroom Floor," "Jump Kiss," and "Buz'gem Blues." Her film and TV credits include "Pow Wow Dreams," "Skins," "Pennyman," "Edge of America," and "Dreamkeeper," winning major awards for the latter two films. She twice made the list of 10 Most Beautiful Native American Women.
Kenneth Martines directs for HOOP Theatricals/Project HOOP. His previous directing credits include "Kino & Teresa" (for Native Voices at the Autry), Pulitzer winner N. Scott Momaday's play "The Indolent Boys" at Southwest Repertory Theatre in Santa Fe and on tour, and productions of "Guys & Dolls," "Macbeth," "The Trojan Women," "MVP- The Jackie Robinson Story," and "The Wizard of Oz." Also an actor, he has numerous credits on stage ("Black Elk Speaks," "Beautiful in the Extreme," "The Sacred Hoop," screen ("American Graffiti," "Car Wash," "Patty Heast"), and television ("Dynasty," "Hunter," "Port Charles", much more).
HOOP is an abbreviation of Honoring Our Origins and Peoples. Project HOOP is one of two Indian arts organizations operating from space at Los Angeles Theatre Center. The other is American Indian Dance Theatre. Artistic director for both groups is Hanay Geiogamah.
Hanay Geiogamah, of the Kiowa-Delaware Tribes of Oklahoma, is a professor of theater in the School of Theater, Film and Television at UCLA. He is also the director of the UCLA American Indian Studies Center. Professor Geigomah was senior producer on the PBS documentary series "Indian Country Diaries." His own plays include "49," "Body Indian," "Foghorn," and "Coons Con Coyote."
Mark Anthony Rolo is the playwright of "What's an Indian Woman to Do?," which had its World Premiere at the Minnesota Fringe Festival in Minneapolis in 2005. An earlier play, "Mama Earth Loves Lace," premiered in 2002. A member of the Bad River Band of Lake Superior Ojibwe, he is the former executive director of the Native American Journalists Association and served as editor of The Circle and as Washington, D.C. correspondent for Indian Country Today. His first novel, "The Wonder Bull," was published in 2006.
HOOP Theatricals/Project HOOP and American Indian Dance Theater are part of the Cultural Roundtable, an ethnically diverse group of arts organizations sharing administrative and performance space at Los Angeles Theatre Center. Other groups participating in the Roundtable include Robey Theatre Company; Culture Clash; Cedar Grove Productions on Stage; Playwrights Arena; UCLA School of Film, Theater and Television; and Latino Theater Company, whose artistic director, Jose Luis Valenzuela, convened the Roundtable.
"What's an Indian Woman to Do?" is part of the Cultural Re-Construction Series, a series of programs scheduled during the literal re-construction of portions of the historic edifice of the Los Angeles Theatre Center as the Roundtable continues its participation in the cultural revitalization of Downtown Los Angeles.
Stage manager: Les Miller. Production manager: Adam Shive. The Los Angeles Theatre Center is operated by the Latino Theater Company and is a facility of the City of Los Angeles.