DIRECTOR'S WELCOME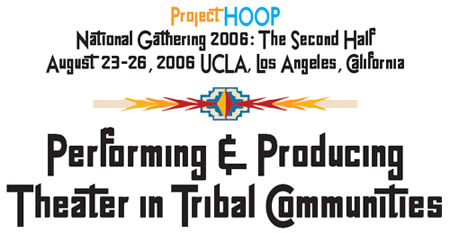 Greetings, Native American performing artists---actors, writers, composers, dancers, esigners, educators, directors and producers, from all parts of Indian Country. Itís dAugust, 2006, the peak of one of the warmest summers on record, and all around us, everywhere one looks, change is happening. Big changes, very real changes, some changes for the better, some not for the better. It is a time in Indian peoplesí journey when keeping the faith, staying the course, and renewing oneís commitment to the goals many Indians share, are all more important than ever.
We at Project HOOP believe that, despite the current pessimism and strife in the world, the future, especially the next three years or so, are going to be an exciting, highly productive period in the forward thrust of Native people in America. The arts, especially the theater and performing arts, will be a very important component of this creative fervor. Indeed, the presence of Native theaters and other kinds of live performances within many tribal communities, when they are organized and up and running, will provide a forum for exploring and examining our many problems and for suggesting and creating solutions to these challenges.
This work will be the focus of this convening, Project HOOP National Gathering 2006: The Second Half, August 23-26 at UCLA. Model structures and strategies for five different artists-in-residence teams for tribal communities have been devised to assist tribes and other Native organizations in developing a range of projects and activities in their communities. Three of these models, for tribal youth theater, for acting/production workshops, and for company start-up and new productions will be presented and demonstrated. (The models for developing playwriting workshops and tribal dance theater productions were presented at the First Half sessions.) The August conference attendees will hear reports and view working demonstrations on Project HOOP-sponsored performing arts projects that have been conducted at the Viejas reservation community in Southern California, in the public schools system in Billings, Montana, and at the Eastern Cherokee Reservation in North Carolina.
Many of those attending the Second Half gathering are representing tribes that responded to the national performing arts needs survey which Project HOOP conducted in 2004-05. An estimated 98% of those surveyed conveyed strong interest and need for the Project HOOP artists-in-residence workshops in their communities. The national survey and the program to develop responsive working models for tribal communities are parts of a five-year initiative by Project HOOP to promote and develop Native American theater and performing arts in tribal communities. Funding for this initiative, and for this conference, has been generously provided by the Ford Foundation.
Welcome, and we hope the conference will be an inspiring and rewarding experience for you. Aho.
Hanay Geiogamah
Project HOOP Principal Investigator
Professor of Theater, UCLA School of Theater, Film and Television