Project HOOP - National Gathering 2006: The Second Half
Additional Information
---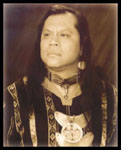 SPECIAL PERFORMANCE
A graduate of the American Musical and Dramatic Academy in New York City, Cochise Anderson is an actor, spoken word/performance artist, storyteller, cultural arts educator, traditional musician, poet and playwright. In The Kemosabe Therapy, an eclectic ensemble of "word songs," Cochise pays homage to his ancestors' message of love and rebellion. He integrates a vision of the past and present with a contemporary beat and brings to life spoken-word statements such as "Stop Dreaming" and "Pro-Ject" that address the dilemmas of our modern times. The Kemosabe Therapy was nominated for the 2005 Indian Summer Music Awards in the category of Spoken Word.
---
UCLA AMERICAN INDIAN STUDIES CENTER NATIVE AMERICAN THEATER SERIES

NEW! Evening at the Warbonnet and Other Plays. By Bruce King, 2006.
The five plays in this collection by Bruce King offer a ride into an American Indian twilight zone that the author has been exploring for much of his career. The abnormal, often surreal settings of these plays provide a backdrop for his observations on the eternal struggle between good and evil and the challenge of living the proper Indian way.

Stories of Our Way: An Anthology of American Indian Plays. Edited by Hanay Geiogamah and Jaye T. Darby, 1999.
The first anthology of its kind, Stories of Our Way spans more than thirty years of American Indian theater. This distinguished group of twelve plays draws on a rich range of tribal experiences, providing a testament to an evolving American Indian theatrical aesthetic. The plays probe the often-painful past, celebrate humor and spirituality, and express the enduring values of family, community, and tribe.

American Indian Theater in Performance: A Reader. Edited by Hanay Geiogamah and Jaye T. Darby, 2000.
This comprehensive collection presents the views of leading playwrights, directors, scholars, and educators in contemporary Native theater. Locating Native theater within the rich contexts of Native communities, tribal performance traditions, and artistic innovations, the articles and interviews provide historical context and offer perspectives on directing, dramaturgy, and new play development in Native theater.

Keepers of the Morning Star: An Anthology of Native Women's Theater. Edited by Jaye T. Darby and Stephanie Fitzgerald, 2003.
Keepers of the Morning Star showcases the exciting range of Native women's theater today from the dynamic fusion of storytelling, ceremony, music, and dance to the bold experimentation of poetic stream-of-consciousness and Native agit-prop. While negotiating complex issues, this collection celebrates the enduring power of Native women's traditions to heal and transform.
---
TO CONTACT US:
Hanay Geiogamah, Principal Investigator and Director
Jaye Darby, Co-Director
Project HOOP • UCLA American Indian Studies Center • 3220 Campbell Hall, Box 951548
Los Angeles, CA 90095-1548 • Ph: 310/825-7315 • Fax: 310/206-7060
Email: hoop@ucla.edu
For more information regarding our publications, please visit us online at:
www.books.aisc.ucla.edu or call 310/825-7315.