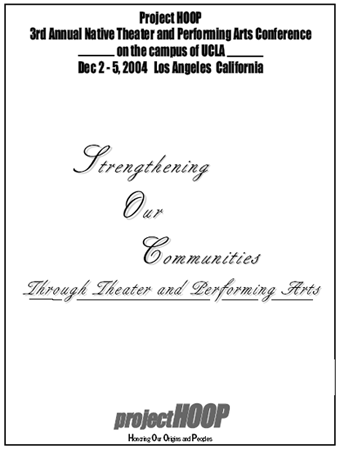 ---
Project HOOP Gathering Explores
Tribal Community Development Via
Native Theater and Performing Arts
Producers, actors, directors representing 15 Native American theater companies and performing arts-related-projects gathered in Los Angeles December 2nd through 5th for the third annual Project HOOP Native Theater and Performing Arts Conference. Theme for the two and a half day event was "Strengthening Our Communities Through Theater and Performing Arts."
A major event of the conference was a symposium on the conference's second day exploring aspects of theater and performing arts in Indian Country. An eight-member panel shared insights, experiences and challenges of trying to establish Native American theater and performing arts in tribal communities from Alaska to Minneapolis. Panelists included renowned actress and director Jane Lind; Professor Patricia Harter of the UCLA American Indian Studies Center Department of Theater; J.R. Mathews, who recently became affiliated with the Tulsa Indian Actors Workshop as a director/producer.
Cyndi Alvitre, a Tongva storyteller/educator and PhD candidate at UCLA; Jeff Kellogg, professor of theater at Sinte Gleska University in Mission, S.D.; Marci Rendon, playwright and community arts developer from Minneapolis; and Julie LittleThunder, co-founder of the Tulsa Indian Actors Workshop. Hanay Geiogamah, UCLA professor of theater and Project HOOP principal investigator, served as moderator.
Conference sessions were conducted at the Holiday Inn Bel-Air Brentwood and the UCLA Department of Theater. A special feature of the conference was a live performance of NO HOME BUT THE HEART , an autobiographical dance-drama created by acclaimed dancer/choreographer Rosalie Jones. The multi-media production was performed as the closing event of the conference on Saturday evening in the UCLA Freud Playhouse.
Among those attending the conference were:
Marjorie Tanin, Project HOOP community liason, actress and casting director based in Los Angeles.
Pat Melody, professor of theater and artistic director of the Thunderbird Theater at Haskell Indian Nations University in Lawrence, Kansas.
Dallin Maybee, dancer and lecturer, representing the American Indian Dance Theater.
William Yellow Robe Jr., one of Indian America's most produced playwrights.
>Dawn Jamison Gingold, actress/writer/director, representing the performing arts program of the American Indian Community House in New York City.
Maria Williams, faculty member representing the American Indian Studies Program at the University of New Mexico in Albuquerque.
Terri Gomez, director of the Project HOOP program at the Institute of American Indian Arts in Santa Fe, N.M.
>Phillis Brisson, actress and director, and Frieda Kirk, actress and producer, representing the newly-reorganized Red Earth Performing Arts Company of Seattle, WA.
Martha Brice, founder and artistic director of Red Eagle Soaring Youth Theater of Seattle, WA.
Francine Blythe, performing arts programming coordinator for the National Museum of the American Indian at the Smithsonia Institution, Washington, D.C.
Mytron Running Wolf, actor/playwright/educator based in Los Angeles.
Frank Blythe, executive director of the Native American Public Telecommunications, Inc., Lincoln, NE. which will be producing a American Indian radio drama series beginning this year.
Joanne Chase, representing the Ford Foundation.
Arigon Starr, singer/actress, of Los Angeles, who is rehearsing her new one-woman theater piece for an early 2005 debut.
Professor Anne Haugo, Illinois State University specialist in Native theater history and development.
And numerous others.
Funding for the conference was provided by the Ford Foundation, the U.S. Department of Education's Fund for the Improvement of Post-Secondary Education (FIPSE), and the W.W. Kellogg Foundation. Additional support was provided by the UCLA American Indian Studies Center and the UCLA Department of Theater. Mark Anthony Rolo was conference coordinator for Project HOOP.
---
December 2-5, 2004: Project HOOP 3rd Annual Native American Theater and Performing Arts Conference
Director's Welcome
In January of this year, Project HOOP received a two-year grant from the Ford Foundation to conduct planning and research for a nationwide performing arts needs assessment and initiative in tribal and urban Indian communities. This initiative will lay the foundation for an infrastructure that will serve the needs of artists participating in Native performances, community arts activities, and educational performing arts programs. As the initiative proceeds, Project HOOP will be positioned to serve tribal artists and their communities to help them receive much needed artistic, technical and arts management assistance, allow them to assess their needs and goals, activate their creative and cultural assets, and utilize community resources. This grant also enables us to conduct the third annual gathering of Native theatre and performing artists here at UCLA.
After thirty-five years of working in Native performing arts, I strongly believe that Native American theater and performing arts, of all the 21st century Native art forms, are the most rooted in tribal traditions. Native theater and performing arts provide a forum for introspection, examination and celebration of the tribal community in a cultural and theatrical context that integrates music, dance, choreography, costuming, speech and storytelling. The result is an ideal forum for creating and nurturing intergenerational continuity, community development and the sharing of unique tribal cultures.
Native American communities across America are the most underserved and underrepresented in arts funding and support. There is a clear need to provide a broad array of support, from development and training opportunities to venues to produce, perform and showcase their work, ideally within or near home communities or reservations. We all know that there are thousand of young Native Americans who dream of careers as professional performers, directors, playwrights, screenwriters, and television program developers.
I hope that all of us at this gathering can work together and contribute to the HOOP initiative to provide the support and creative assistance these young artists need. The new productions and works they create will certainly establish a greater Native presence in the American cultural landscape. And they will transform our communities in many good ways. A-ho.
Hanay Geiogamah
Project HOOP Principal Investigator
---
We greatly appreciate support from the following:
UCLA American Indian Studies Center
UCLA School of Theater, Film, and Television
The Ford Foundation
U.S. Department of Educations' Fund for the Improvement of Postsecondary Education
W.K. Kellogg Foundation
---
Welcome Reception
Thursday, December 2nd, 2004
Canyon Room, Holiday Inn/Brentwood Bel-Air
6:00-8:00pm
---
Opening Presentation
Reaching Out To Tribal Communities
FRIDAY, DECEMBER 3 - 8:30 - 9:00 AM - CANYON ROOM - HOLIDAY INN/BRENTWOOD BEL-AIR
The Project HOOP Staff will present an overview of two major outreach initiatives that include the following: 1. Creating theater and performing artists-in-residence team models. 2. Designing and implementing a national survey of theater arts needs in tribal communities.
Hanay Geiogamah, Co-Director
Jaye Darby, Co-Director
Marjorie Tanin, Community Outreach Coordinator
Mark Anthony Rolo, Programs Coordinator
---
Session One
Breakout Groups
9:00 AM - NOON - CANYON ROOM - HOLIDAY INN/BRENTWOOD BEL-AIR Native artists, educators and community leaders will divide into working groups to develop writing, acting, directing and production team models.
Full Group Discussion and Wrap Up
Lunch: Noon - 1:00 pm
---
Session Two
Passion and Grassroots: Assessing Theater and Performing Arts in Indian Country
1:00 - 5:00 PM - CANYON ROOM
Professor Shiela Reaves (Department of Life Sciences Communication University of Wisconsin-Madison) will present various survey methods–choices and pitfalls–in an effort to engage participants in assessing which would be the best approach for Project HOOP's initiative to conduct a national survey in Indian Country. The session will include dividing into survey design groups.
---
Dinner 6:00 - 7:30 pm
---
Performance
Arigon Starr, Kickapoo
Singer-Actress
7:30 - 9:00 pm Canyon Room
---
Symposium
Theater and Performing Arts in Indian Country
SATURDAY, DECEMBER 4 - 1:00 - 5:00 PM - FREUD THEATER - MACGOWAN HALL / UCLA
Native artists and educators discuss their experiences working in communities and ways in which tribes can create their own grassroots theater and performance pieces with story, dance and song for the stage.
Moderator:

Professor Hanay Geiogamah (Kiowa/Delaware)
UCLA Department of Theater
Panelists:

Cindi Alvitri (Tongva)
Playwright
Professor Patricia Harter
UCLA Department of Theater, Artsbridge
Jeff Kellogg
Sinte Gleska University
Educator/Director
Jane Lind (Aleut)
Actress/Director/Choreographer
Julie LittleThunder (Cherokee/Cheyenne)
Playwright/Director/Producer
Marcie Rendon (White Earth Ojibwe)
Playwright/Educator
J.R. Mathews (Quapaw)
Director
---
Evening Reception
5:15 - 6:45 PM - LOBBY - MACGOWAN HALL / UCLA
---
Performance
"No Home But The Heart"
written and performed by Daystar/Rosalie Jones
7:00 - 8:30 PM - FREUD THEATER - MACGOWAN HALL / UCLA
---
SUNDAY, DECEMBER 5
Breakfast: 8:00 am
Informal Wrap-Up and Farewells